Le Gaboteur is the only written media of information in French in Newfoundland and Labrador. Launched in 1984, it is now published 20 times a year, in print and electronic versions, by the non-profit organization Le Gaboteur Inc. and has a growing presence on the Web, through its website www.gaboteur.ca, Facebook page and Twitter feed.

Its content is the result of a sustained collaboration between its permanent team and many freelance journalists and photographers working in several regions of the province, particularly those where Francophones live. We also publish reports prepared by the Association de la presse francophone, of which we are members, as well as by the Agence Science-Presse.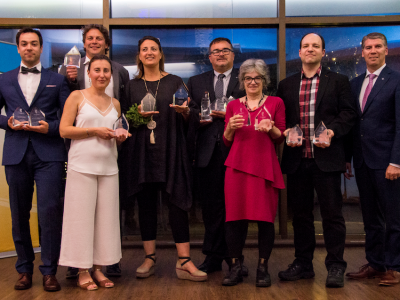 In 2017, Le Gaboteur was honoured with two Awards of Excellence from the Association de la presse francophone in the categories of Best Special Project and Best Article in Arts and Culture. It is also one of three finalists for Awards of Excellence in the Best Picture and Best Cover of the Year categories. In 2016, the newspaper won two Awards of Excellence for Best Special Project and Best Editorial, as well as first mentions in the Photo and Arts and Culture categories.

The Gaboteur is distributed mainly by individual or group subscription. Several options are available on its website. It is also possible to purchase current editions on the Pressreader platform.
Information
223-233 Duckworth Street, Saint-Jean (Terre-Neuve-et-Labrador), A1C 1G8
Phone: (709) 753-9585
info@gaboteur.ca
Follow us