You are cordially invited to the Provincial Francophonie Day celebrations on
Tuesday, May 30th
It was in 1987, in the community of Mainland, that the Franco-Newfoundland-and-Labradorian flag was raised for the first time during a ground-breaking ceremony of the Centre scolaire et communautaire Sainte-Anne.
In 1992, the community decided to make May 30th their day and held a ceremony at the Confederation Building, seat of the Legislative Assembly in the capital city of St. John's.
In 1998, Canada and the Province of Newfoundland and Labrador signed an Agreement on the Promotion of Official Languages​​. The provincial government finally decreed in 1999 that May 30th of each year would be the day of the Francophonie in Newfoundland and Labrador. The same year, a second agreement was signed between Canada and the Francophone community of the province.
On May 30th of each year, the traditional and symbolic flag raising occurs in each francophone region of the province. This day is a celebration of the francophone language and culture. Indeed, French presence in Newfoundland and Labrador dates back more than 500 years and is an important part of the province's culture, even though Francophones today represent only 0.6% of the population.
Francophones and Acadians celebrate and spread around their family and friends, as well as in their community, the taste, beauty and richness of French culture.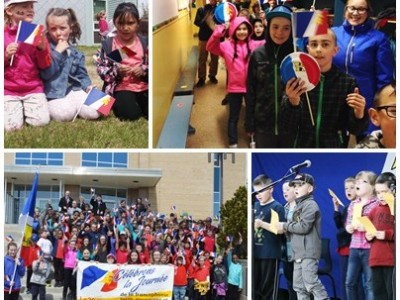 11:30 am - Gathering and flag raising ceremony at Town Hall of Happy Valley-Goose Bay
12:15 pm - Serving of cake
 9:30 am  - "Crêpes" commununity breakfast (Centre des Grands-Vents)
10:15 am  - Community walk "Tintamarre" between the Centre des Grands-Vents and Confederation Building
11:00 am  - Official ceremony and raising of the Franco-Newfoundland-and-Labradorian flag at the main lobby of Confederation Building
12:15 pm - Tintamarre starting from Confederation Buidling accompanied by the RNC's Mounted Unit
13:00 pm - Cake and traveling exhibit on Francophone immigration in Canada (Centre des Grands-Vents)
11:30 am - Greeting in Cape St. George and cultural activites (visit of fire station, pool and Notre-Dame-du-Cap school)
12:30 to 2 pm - Celebrations at Au Boutte du Cap park (or at the Terre-Neuviens français centre in case of rain). On the program: flag raising, community lunch and a series of activites.
11:00 am - Gathering and flag raising ceremony at Town Hall of Labrador City
Noon  - Community lunch at the Centre éducatif l'ENVOL
---
Please note:

On Monday, May 29th at 11 am, the Franco-Newfoundland-and-Labradorian flag will be raised at St. John's City Hall. Please don't hesitate to join the Association communautaire francophone de Saint-Jean for this occasion!
---
* For more details on activites, call us at (709) 757-2828 or write us at liaison@fftnl.

We hope to see you there!
Follow us