PRESS RELEASE
For immediate release
THE ROGER-CHAMPAGNE 2023 AWARD IS AWARDED TO MR. BERNARD FÉLIX
St. John's, November 07, 2023 - The Fédération des francophones de Terre-Neuve et du Labrador (FFTNL) has awarded the Prix Roger-Champagne 2023 to Mr. Bernard Félix.
The 42nd recipient is considered by some to be a proud ambassador of our Francophonie, and an unparalleled cultural ambassador. He has the French language and music in his heart.
Raised in a family proud of its French and Acadian heritage - as his mother said, "French belonged to us, and I didn't want to lose it" - Bernard Félix has honored his parents by continuing to speak the language and play the musical heritage of his ancestors.
A worthy heir to his uncle (Émile Benoît), he, like his uncle, learned music on his own, without a class or teacher, by listening to records of popular French music at his parents' home, and playing the electric organ, moving on to the accordion and the folklore of our province.
A lover of his French roots and culture, Mr. Félix has invested unstintingly in preserving them, with an admirable commitment to ensuring the next generation.
For many years, he has been teaching accordion to young people on the Port-au-Port peninsula, training generations of new cultural ambassadors.
The new musicians emerging in his community today owe a great deal to the knowledge he passed on to them.
Always ready to generously give his time and his music. Accompanied first by Mr. Formanger, and today by his brother, he has performed and continues to perform in his region, encouraging musical vocations.
He often accompanies less-experienced youth to give them experience of the stage and the public, all on a voluntary basis.
Mr. Félix is thus a tireless and proud representative of his Franco-Newfoundland and Labrador community at festivals throughout the province, as well as at national and international festivals, where he often shares the stage with English-speaking musicians, making himself, once again, a cultural bridge-builder.
- 30 -
The Roger-Champagne Award Selection Committee was made up of Cyrilda Poirier, Naomi Félix-Gaddes, Charly Mini and Mélanie Cayouette, all recipients of the award in accordance with the Roger-Champagne Award Guide.
Since 1983, the Roger-Champagne Award has been presented each year to a francophone or Acadian personality who has distinguished himself/herself through his/her work in the development of the French fact in Newfoundland and Labrador.
PDF format (French only): Prix Roger Champagne 2023 (320 Ko)
For more information on this award, visit www.francotnl.ca/Prix-Roger-Champagne.
For further information, please contact: 
Gaël Corbineau, General director
Fédération des francophones de Terre-Neuve et du Labrador
Center scolaire et communautaire des Grands-Vents
65 Ridge Road, Suite 233 - St. John's, NL - A1B 4P5
Gael.Corbineau@fftnl.ca - (709) 800-6200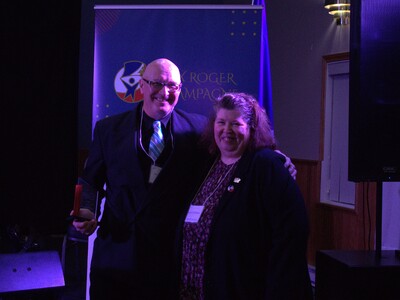 from left to right: Mr. Bernard Félix, recipient, Mrs. Sophie Thibodeau, FFTNL President
Follow us